Update: 5:30 PM ET 10/04/2021
It appears DNS fixes have been implemented, and Facebook is back online for the majority of users as of 5:30 PM ET.
Updated: 02:45 PM ET 10/04/2021
It was looking like services were possibly being restored with a rapid decline in reported Facebook outages. However, we're currently seeing downtime reports slightly increase again over this last hour. We're not sure if there's any correlation with the recent whistleblower revelations that aired on 60 Minutes.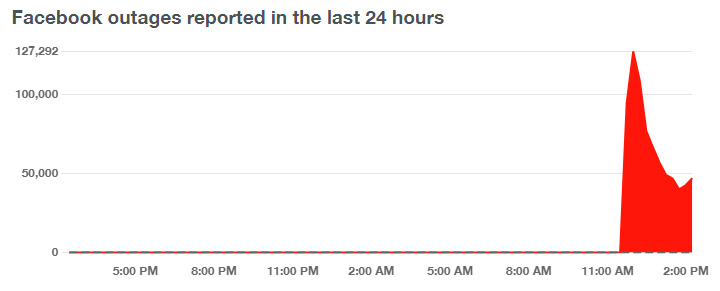 Between all events combined, Facebook Stock has fell (currently) 7.04% today. This is the worst single-day decline since a 6.3% fall logged on Oct 30, 2020.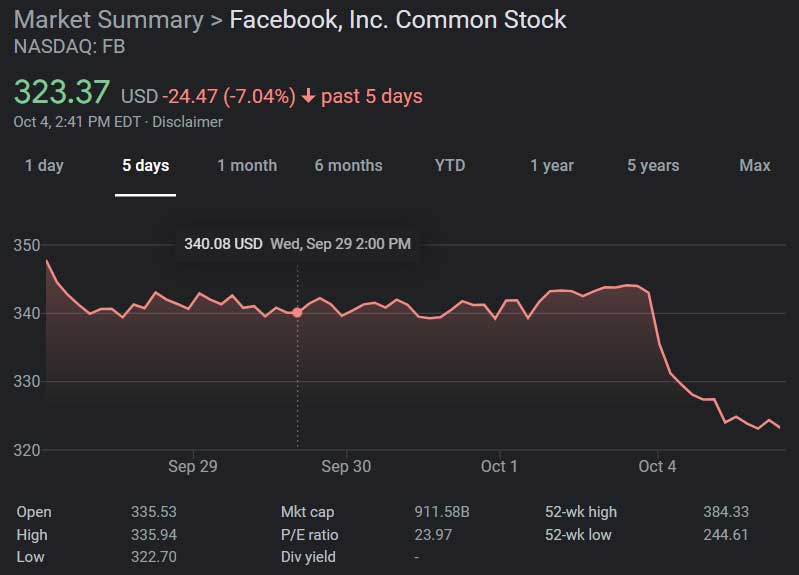 Updated: 01:40 PM ET 10/04/2021
Facebook tweeted a confirmation that they are working through the issues. However, they did not provide any further information at this time as to what caused the major service outage.

Looking further into the outage it appears to be a DNS routing issue. Senior Vice President Dane Knecht at Cloudflare tweeted that their border gateway protocol (BGP) routes have been withdrawn from the internet. BGP is a protocol standard used in exchanging routing and reachability between autonomous systems on the internet – selecting the most efficient routing.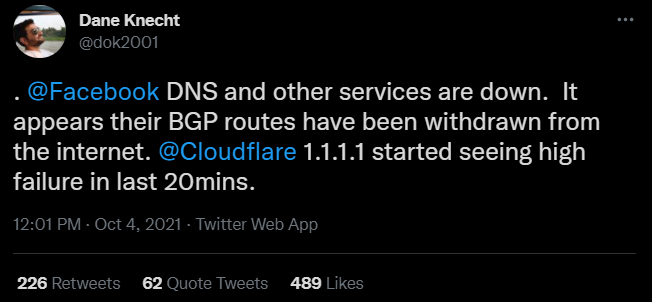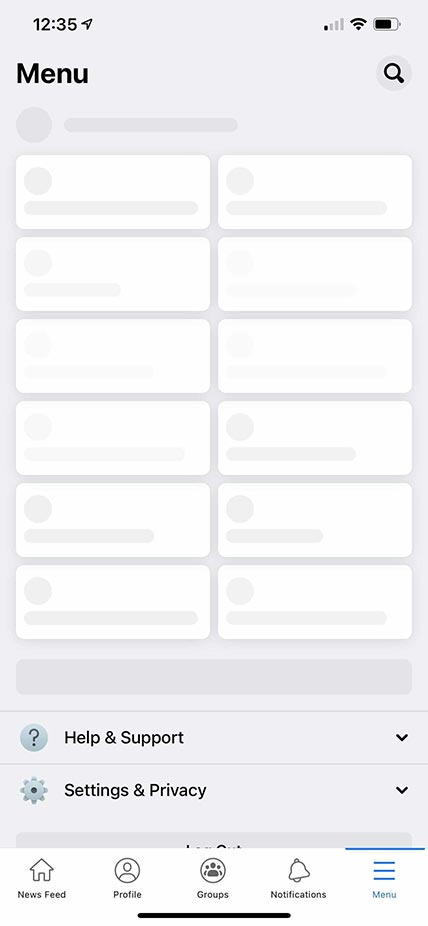 Updated: 12:42 PM ET 10/04/2021
As of around 11:40 AM ET, Facebook, Facebook Messanger, Instagram, and WhatsApp are all down currently for all users worldwide. This is affecting both web and mobile applications of these platforms. The mobile applications may still have old content cached that shows up in the app; however, new content is not populating and features are not accessible as nothing else is able to load.
Our team was in the middle of adding a new client to our business.facebook.com account for our Facebook advertising management services when the site could not be accessed. Typically, we ask the rest of our team to quickly see if they can bring up the website, and sure enough, it was down for everyone. After a few seconds of investigating (Googling) around, we can see numerous reports that Facebook is down. The outages are also trending on Twitter as other users have checked alternative social media platforms to inquire on the status of the Facebook and Instagram downtime.
Unfortunately, the outage of Facebook is also affecting 3rd party platforms that utilize account login features that are associated with Facebook that are common for apps to help you save time from creating a new account by using your existing Facebook or Google account to log in as a form of convenience. This is when that method stops being convenient when a popular service such as Facebook is down.
Facebook Downtime Reports
Reports are showing that Facebook has not publically commented on the ongoing downtime yet. Soon enough, we should have an official statement from Facebook that we can link to or provide more information on the outage as soon as we know.

Tools such as DownDetector.com are showing Facebook outages reported over the last 24 hours showing downtime reports as early as 11:26 AM today.

We'll keep this post updated as soon as we know more and link to further resources.
Is Your Business ONLY On Facebook?
This is also a great reason to not fully rely on one platform for all of your business's marketing efforts. Right now with this outage, businesses that do not have their own website have zero visibility for their company online if they solely relied on Facebook or Instagram to market themselves. This means missed opportunities.


If your business only has a Facebook page without your own website, you probably have some difficulty getting found online in your local market, or at least you have a lot of room to improve. Get in touch (616) 965-6972 opt 1 with our local Rockford, MI (greater Grand Rapids, MI) team today. We can help expand your current visibility online and create an online brand experience to help you get found online, stand out in the market, engage and convert more visitors into leads and sales for your business.