May 17, 2018 – WordPress 4.9.6 – Privacy & Maintenance update has been released including 37 enhancements and 51 bug fixes.
WordPress has now made it easier to manage what data you have on a user and provide a security policy to users to help them understand how you use that information and empower the user to be able to get a copy of the information you have on them and allow requests to remove their data, along with an administrative workflow in the WordPress backend to process such requests.
Most minor updates are security and bug related fixes, WordPress version 4.9.6 ties in a number of privacy-related features.
The European Union's General Data Protection Regulation (GDPR) related updates include:
Privacy Policy page template/creation
User Data Request Handling
User Data Export and Removal tools
Cookie Opt-in for Comments
Other features related to GDPR Compliance
How Some of These GDPR WordPress Privacy Features Work:
These new privacy-related features will need attention from Theme authors or minor styling adjustments such as the new privacy policy management feature. Another privacy management feature includes allowing users to request an export of all of the stored data associated with them on the website as well as a tool for users to request removal of their data.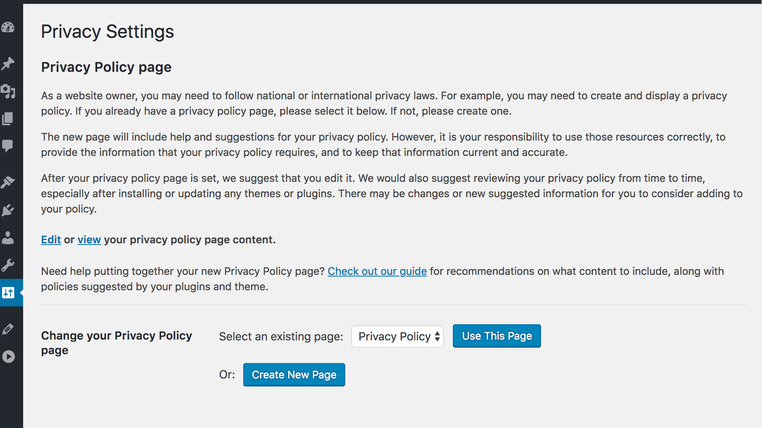 You can access these features under Settings > Privacy Settings. This will allow you to create and manage your website's privacy policy. This new feature will give you a structured privacy policy outline that will meet GDPR requirements. This does require your time to research and finish writing in details that you will need to add in to the various areas within the policy.
Also, under Settings is a feature to Export Personal Data and Erase Personal Data. If someone has requested data your website has on them (by email address), you will then be able to process their request with a confirmation emailed to the user to confirm their email prior to providing an export or removal of their personal information.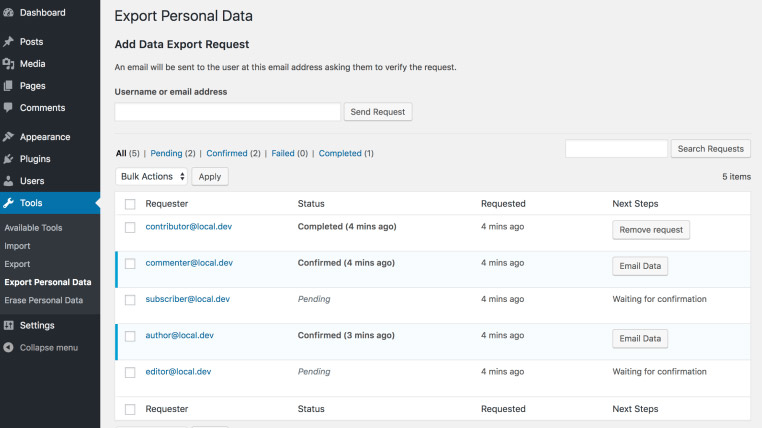 Example personal data that could be included in one of these Personal Data exports include any information the user has provided in their user profile such as name, user name, email, any contact information, registration date, any comments or actions made on the website and IP addresses that have been logged.
New PHP Polyfills
To help overall compatibility of WordPress core and plugins used on websites, a polyfill for every function has been added to WordPress 4.9.6. When a website is not running a PHP version required for one of these functions, WordPress will automatically load the required polyfill. This all has to do with validating variables before using them – just a good practice for forwards-compatibility and proper variable validation. When viewing a plugin in the admin area, it will now tell you the minimum PHP version required.
Get More Out of Your Website
If you're not a current 616 Marketing Group client where we manage your website hosting, updates, and support – let us know if you're updating your website and come across any issues. Our team would love to take a look at your website and provide you're a few free tips to fix your issue and learn about our support plans that will give you your time back – concentrate on your business, we'll manage your website.